Vane Pumps in Bahamas, Cayman Islands, Tobago, Trinidad, Virgin Islands & Throughout the Caribbean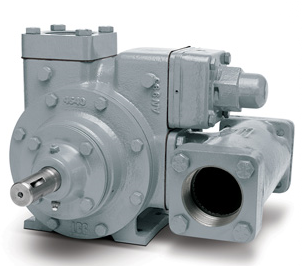 Vane pumps have been used around the world for many centuries due to their simplicity and effectiveness. The pumps offer many great solutions for moving light- to medium-viscosity material and other substances to keep your job site running smoothly and efficiently. Warren Rupp and other top pump manufacturers offer different types of pumps to ensure you have the absolute best equipment on your job site.
Simplicity Keeps Them Working
Vane pumps have a slotted rotor within a cycloidal cam that turns in a circular motion to move liquids. It draws material in from one intake, circulates it within the cam, and expels it via a discharge port. There is very little friction or moving parts, which adds to the efficiency and effectiveness. These pumps work particularly well when moving material with light to medium viscosity, including:
Water
Oil
Fuel
Solvents
Aqueous Solutions
Our team of experts can determine the best type of pump for your job site and design and build custom vane pumps to get the job done right. We can also provide skid-mounted installation and offer 24-hour maintenance and repair services every day of the year.
Vane Pumps Offer Many Advantages
A vane pump is relatively simple to manufacture, install, and maintain, which makes them ideal when moving light liquids. They are particularly good at handling thin liquids that keep relatively high pressures. These types of pumps also compensate for wear via vane extension. The vanes also can run dry for short periods, due to the relatively frictionless pumping mechanism. The result is a fantastic pump for use when the job does not require the movement of heavy material.
Contact Us for Your Pumping Needs
Arroyo Process Equipment has three Florida locations and more than 50 years' experience providing efficient solutions to pumping problems. Our team of chemical and mechanical engineers can provide a free on-site consultation and deliver custom, turnkey pumping solutions with Warren Rupp equipment and equipment from other top makers of industrial processing equipment. Most of our systems are skid-mounted, which enables a more efficient installation to get your job site up and running. Feel free to contact Arroyo Process Equipment for Warren Rupp pump repair and other needs, including quotes for vane pumps in the Bahamas, Cayman Islands, Tobago, Trinidad, Virgin Islands, and throughout the Caribbean.