Vertical Turbine Pump for Florida, Georgia & Beyond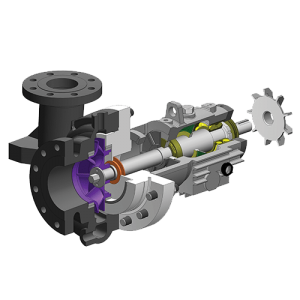 The vertical turbine pump models distributed by Arroyo Process Equipment are specifically designed to move fluids from deep wells and reservoirs and are often the ideal choice for processing operations specifying a fuel pump. Arroyo Process Equipment has been supplying processors with exceptional processing equipment and unrivaled service and support ever since Frank Arroyo Sr. founded our family owned and operated business back in 1968.
Vertical turbine pump equipment available in our Centrifugal Pump Line at Arroyo Process Equipment includes the following and more:
PumpWorks API Series PWV models
Plad Equipment VT type multi-stage pump models
Peerless vertical turbine equipment from Grundfos
Plad Equipment GPM VARIPLUS vertical turbine systems
MTH Pumps vertical base mounted regenerative turbine pumps
Vertical Turbine Pump in Florida From Arroyo Process Equipment
PWV VS6 can barrel and VS1 open sump models from the PumpWorks API 610 Series fuel pump line are designed to API 610/ISO 13709 specifications and always built, assembled and tested in Tyler, Texas. PWV pumps feature mounting flange O-Rings for positive sealing, corrosion and rust resistant suction barrels, and dynamically balanced impellers. Grundfos Peerless turbine pumps are designed for processing non-abrasive liquids and feature capacities up to 150,000 GPM and heads up to 2500'. These pumps are often used for water supply transfers, agricultural irrigation and industrial mining applications. MTH Pumps M50 Series multi-stage, regenerative turbine, vertical base mounted pumps offer high performance at economical pricing and feature heads up to 2300' and capacities to 40 GPM.
Our pump lines also include many other types of fuel pump models such as API Series PWD single stage double suction PumpWorks models and PWM BB3 multi-stage models, Phantom Pumps DPUMP models, Sandpiper air operated double diaphragm pump models, and more. Arroyo Process Equipment pump specialists and application engineers are happy to help processors determine the vertical turbine pump or other pump models in our lines that are best suited for the specific requirements at their processing facilities in Florida, Georgia and beyond. Contact us today for more information or to request pump quotes.