Watson Marlow Equipment Available in Florida & Beyond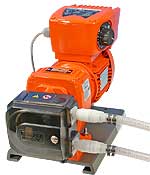 Watson Marlow and other top brands provide rugged and reliable fluid-processing equipment. Arroyo Process Equipment in Bartow, FL, is a leading supplier of Watson Marlow pumps, motors, and other fluid-processing equipment. Our team of mechanical and chemical engineers provides custom, turnkey solutions for fluid-processing needs at industrial sites virtually anywhere. We have 50 years' experience with the best gear, like the Warren Rupp diaphragm pump and other types of processing equipment, and our professionals have the expertise needed to keep your facilities operating at peak levels.
Service Always is Available
Arroyo Process Equipment is a woman and Hispanic-owned business with three locations in Florida and one in the Dominican Republic. No matter when a problem might arise, our team of experts will provide emergency repairs and maintenance services so that you stay in production. We have a full line of fluid-processing equipment, including:
Gearboxes
Motors
Pulsation dampeners
Mixers
and More
Whether you need Watson Marlow equipment or something by another top brand, we have the product selection and experienced staff available to satisfy your service needs at any time.
Get Custom Solutions
No two job sites need the same equipment to get the job done. That is why a normally outstanding part like the Warren Rupp diaphragm pump might be ideal in one situation, but not in another. With 50 years' experience providing fluid-processing solutions, Arroyo Process Equipment can design, install, maintain, and repair the best possible system for your job site. Our experts offer skid-mounted installation to get new systems in place and working as quickly and efficiently as possible.
Call for Estimates on Watson Marlow Equipment
Arroyo Process Equipment's team of professional engineers can survey your job site and provide the best possible solutions for your needs. We have Watson Marlow and other top brands available for ideal processing solutions. Please feel free to contact us for a free consultation at your facility in Florida, Georgia, Puerto Rico, Haiti, Dominican Republic, and beyond, and we will be happy to assess your needs to devise the best possible solutions. We have a half century of success serving the local region and look forward to working with you.