Side Entry Mixers for Haiti, Cuba, Bahamas, Cayman Islands, Tobago & Beyond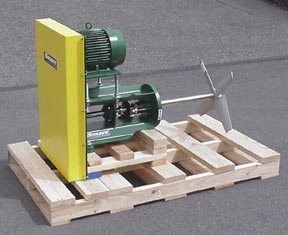 Countless industrial applications require mixing equipment to disperse, homogenize, mix, emulsify, and/or dissolve liquids and other ingredients during processing. Arroyo Process Equipment is a fluid handling equipment supplier with an entire product line devoted to mixers and related equipment. Our Mixing Line is filled with everything from side entry mixers, top entry mixers, laboratory mixers and hydraulic ram mixers to in-line mixer impellers, mixer heads, dust cups, vapor seals and more.
Side entry mixers are typically installed on large storage tanks. The Sharpe Mixers V-Series and Hayward Gordon PSE Side Entry Mixers in our Arroyo Process Equipment line are often used for processing applications in the following industries and more:
Food and Beverage Processing
Waste Water Treatment
Biotech and Pharmaceutical
Personal Care and Cosmetics
Pulp and Paper
Oil, Gas and Petroleum
V-Series mixers manufactured by Sharpe Mixers are available in a variety of speeds, shaft sizes and impeller sizes, and they are also easy to install and maintain. Removing the mixer isn't necessary on these mixers for maintenance, repair and replacement of components such as seals, drive belts and shaft bearings. Standard features include HYFLO 218 energy-efficient impellers, metric or NEMA frame motors, 7-ring pressure stuffing glands and more. PSE side entry mixer models specifically designed by Hayward Gordon for the petroleum industry are available in standard sizes of 15 to 75 HP with hydrofoil impeller diameters ranging from 20" to 33". Mixer models in this line also feature reinforced tooth belt high torque drives.
Fluid processors in Haiti, Cuba, the Bahamas, Cayman Islands, Tobago and beyond looking for an exceptional quality in-line mixer can always count on Arroyo Process Equipment. In-line mixer models in our line include Scott Turbon HSP High Shear Pump and HSM High Shear Mill Inline Series mixers, Sharpe Mixers N-Series mixers, and Hayward Gordon Dynamic Inline Mixing Systems. Literature is available on all products in our lines, including technical data, O&M manuals and more. Contact a friendly and knowledgeable equipment specialist at Arroyo Process Equipment today for more information or to request quotes on our in-line and side-entry mixers.