API Industrial Process Pumps for Florida, & the Caribbean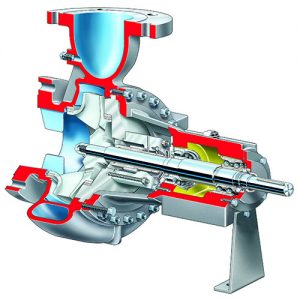 API industrial process pumps feature standards set by the American Petroleum Institute (API). API processing pumps are centrifugal, single-stage, end suction pumps that are manufactured to handle hydrocarbons at extremely high pressures and temperatures and will burn or explode if those hydrocarbons are inadvertently released. The pumps are used for transporting hazardous, flammable, aggressive and explosive fluids in industrial fluid processing refineries and other hydrocarbon processing facilities.
Arroyo Process Equipment is the fluid handling equipment supplier located in Florida with the best selection of high-quality API processing pumps from the top manufacturers in the industry including Pump Works, Phantom Pumps, Ecochem and others. PumpWorks API pumps and pump components are always manufactured and tested in the United States at one of the three testing facilities in Tyler, Shreveport, or Houston, Texas. All PumpWorks pumps include five-year unconditional bearing frame warranties. Their line of API industrial process pumps include the following and more:
PumpWorks PWV VS1/VS6 Vertical Pumps
PumpWorks PWH OH2 Process Pumps
PumpWorks PWB BB5 Barrel Pumps
PumpWorks PWM BB3 Multi-Stage Split Case Pumps
API Industrial Process Pumps From Arroyo Process Equipment
Arroyo Process Equipment is the trusted source for all of the pumps and equipment that industry professionals use in their fluid processing facilities. In addition to API process pumps, our professionals can find an end suction centrifugal pump, sanitary lobe pump, vertical sump pump, boiler pump and more from the best names in the industry such as Grundfos, Deming Pumps and Toyo Pumps. Our Positive Displacement Line includes gear pumps, AODD pumps, plunger pumps and more that are manufactured by well-respected companies in the industry including Viking Pump, Cat Pumps, Wright Flow Technologies and many others. Our Mixing Line and our Specialty Equipment Line of gearboxes, filtration equipment, strainers, electric motors and more features equipment from the names you know and trust such as Sharpe Mixers, Hanson Transmission, Nord and many other leading brands.
Contact us today for more information on API industrial process pumps or other equipment, such as an end suction centrifugal pump or in-line mixer, in our lines that are needed for your processing operations in Florida, Georgia, Puerto Rico, the Dominican Republic and elsewhere throughout the Caribbean.