Cat Pumps for Florida, Georgia, Bahamas, Cuba & Virgin Islands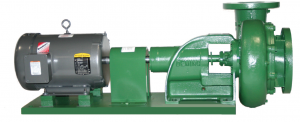 Cat Pumps has been a leading manufacturer of high pressure, positive displacement triplex pumps since 1968. Today, Cat Pumps PD and centrifugal pumps are in use at countless processing operations throughout the world. Arroyo Process Equipment is a fluid handling supplier that proudly represents and distributes the full Cat Pumps line. Our family owned and operated business was founded in 1968 and has since grown into a leader in the industry. Fluid processing professionals trust and rely on our product lines for everything they need to keep their operations running efficiently and smoothly, from industrial pumps and mixers to electric motors, gearboxes, drives and more. Our equipment specialists and renowned team of chemical and mechanical engineers provide clients with unrivaled customer service and technical support.
The Cat Pumps line features more than 1,000 pump models with flow ranges from 13 to 270 GPM and pressure ranges from 100 to 10,000 PSI along with hundreds of pump system related accessories. Products available in our Arroyo Process Equipment Fluid Handling and Specialty Products Lines include the following and more:
High pressure plunger and piston pumps
Industrial duty liquid CO2 pumps
Multistage centrifugal pumps
End-suction pumps
Pressure regulators and pulsation dampeners
Pressure gauges, thermal valves and jetters
Florida Cat Pumps From Arroyo Process Equipment
Direct drive plunger pump models with electric motors are available in brass, nickel aluminum bronze, and stainless steel. Other options include brass and stainless steel direct drive, gas engine models and brass, nickel aluminum bronze, stainless steel, and duplex stainless steel solid shaft models.
Our Arroyo Process Equipment engineers lead our custom pump package system design services. Our engineers create package systems that are complete with one or more pumps, electric motors or other power sources, drives, filters, accessories and other components to meet your processing operation requirements and specifications. Pump systems are typically shipped while skid mounted to processing operations in Florida, Georgia, Cuba, the Bahamas, the Virgin Islands and elsewhere for fast and easy installation. Contact us today to request a Cat Pumps single pump quote or a complete package system quote. Arroyo Process Equipment looks forward to working with you soon!