Milk Pump for Georgia, Haiti, Cayman Islands, Jamaica, Turks and Caicos & Beyond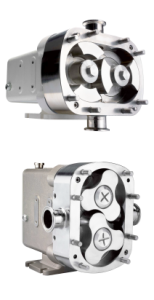 Food and beverage industry professionals turn to the experts at Arroyo Process Equipment for high-quality milk pump and related equipment needed to process milk, cheese and other dairy products. Founded in 1968, Arroyo Process Equipment is still a family owned and operated business committed to providing customers with the best products on the market and the unmatched service they deserve from an equipment supplier. We distribute the highest quality milk pumps from the top manufacturers in the industry, and we have application engineers on staff to help processors determine the equipment in our line that best matches our clients' processing specifications and requirements.
Milk Pump in Georgia From Arroyo Process Equipment
Our Arroyo Process Equipment Fluid Handling Product Line features a variety of sinusoidal and hydraulic pump solutions including products from Wright Flow Technologies and Watson-Marlow Fluid Technology Group that are designed for sanitary fluid processing applications. The milk pump models that typically meet or exceed requirements at many diary processing operations include the following and more:
Revolution Series CIP circumferential piston pump models
TRA 10 Series hydraulic pump equipment for C-O-P applications
Sterilobe Series rotary lobe pumps
Concept SQ ultra-gentle and hygienic rotary lobe models
Certa Series sinusoidal EHEDG pumps
EcoSine EC-25, EC-40 and EC-60 sanitary pump models
Wright Flow circumferential piston milk pump CIP models reduce operation downtime and related maintenance costs because the pumps don't require full dismantling during cleaning. The hydraulic pump models in the line handle a broad range of fluid viscosities and typically deliver improved accuracy and output. Energy efficient MasoSine Certa Series milk pump models from Watson Marlow that feature pressures up to 15 bars and flow rates up to 99,000 liters per hour offer low shear fluid handling with almost no pulsation.
Hydraulic milk pump related products, such as strainers, filters, motors and more, are available in our Specialty Products Line at Arroyo Process Equipment. Our Parts Department has hundreds of hydraulic pumps and other equipment replacement parts in stock or available by special order. Orders are always processed and shipped quickly to organizations in Georgia, Haiti, the Cayman Islands, Jamaica, Turks and Caicos, and beyond. Contact us today to learn more about our quality products and services.