Plunger Pumps for Florida, Georgia, Puerto Rico, the Dominican Republic & the Caribbean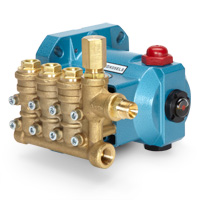 Industry professionals can always count on Arroyo Process Equipment for any of their simple or complex industrial fluid processing needs. We specialize in representing and distributing processing equipment from the world's best manufacturers such as Cat Pumps and many others. We are the leading supplier of plunger pumps, mixing equipment, drives, motors and other fluid handling specialty equipment, and we're renowned in the fluid processing industry for the expertise, service and support that we have provided to our customers for nearly 50 years.
Plunger Pumps From Arroyo Process Equipment
Materials of construction for plunger pumps manufactured by Cat Pumps include:
Brass
Nickel Aluminum Bronze
Stainless Steel
304 Stainless Steel
316 Stainless Steel
Duplex Stainless Steel
It can often be overwhelming to select the best plunger pump from the vast number of models available in our product lines. The team of Arroyo Process Equipment engineers at our offices in Bartow and Jacksonville, FL can help match any pump's technical data with specific and unique processing operations at your facilities across the Unites States and the Caribbean. Our recommendations will help ensure your faculties operate efficiently.
Better still, if you need to process and/or handle caustic and corrosive substances and fluid, we have the high pressure plunger pumps, mixers and related processing equipment you need at Arroyo Process Equipment, and our pump specialists are always available to assist you in choosing the appropriate models to meet and exceed your needs. We have durable, reliable, top-quality processing equipment to handle nearly any type of fluid, and we even have lower cost alternatives to many of the leading name-brand pump parts.
Arroyo Process Equipment also has replacement parts for all of our equipment. Service technicians at fluid processing facilities in Florida, Georgia, Puerto Rico, the Dominican Republic and the Caribbean can count on us to get orders processed and shipped quickly to help keep any processing downtime to a minimum. Contact us today for a quote on high pressure plunger pumps or to place an order for parts and/or accessories.