Y Strainers for Georgia, Cuba, Haiti, Trinidad, Bahamas & Throughout the Caribbean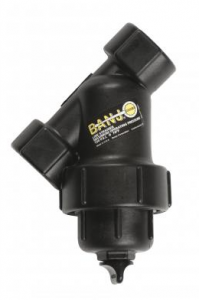 If you're looking for Y strainers for your processing operation lines, you'll find the best Y strainer selection at Arroyo Process Equipment. We're the fluid handling equipment company that's been helping processors outfit their US and Caribbean processing facilities and operations with high-quality equipment for the past 50 years.
Our Arroyo Process Equipment Specialty Products Line features Y strainers and other products from the manufacturers you know and trust such as Eaton, Hayward Gordon, Sew Eurodrive, Weg Electric and Hansen Transmissions. Y strainers are named for their shape and specifically designed to trap unwanted particles in liquids, gases and other substances from pipelines during processing to protect pumps, regulators and other equipment located further down the line. Manual Y strainer screen cleaning takes place once all substances flowing through the pipes have been completely shut-down.
Eaton Model 85 Y Strainers distributed by Arroyo Process Equipment are commonly used for industrial processing applications such as the following and more:
Food and Beverage Processing
Oil and Petroleum Refining
Chemical Production
Pharmaceutical and Cosmetics Manufacturing
Transferring and Transporting Fuel
Power Generation
Eaton carbon and stainless steel Y strainers are available in 1/4" to 10" sizes and feature a compact design, synthetic fiber gaskets, and flanged, threaded or socket weld end connections. We also carry nearly all of the other filtration equipment manufactured by Eaton including other types of manual strainers, bag filters, self-cleaning automatic filters and more.
In addition to providing Y strainer selection assistance to processors in Georgia, Cuba, Haiti, Trinidad, the Bahamas and elsewhere throughout the US and Caribbean, our chemical and mechanical engineers at Arroyo Process Equipment design and create custom pump package systems. Turnkey package systems include pumps, Y strainers, motors, drives, control boxes and/or other components that are always carefully matched to existing equipment and processing operation specifications. Systems are usually shipped skid mounted for fast and easy set-up and installation. Contact a filtration expert at Arroyo Process Equipment today for Y strainer quotes or to learn more about our custom designed package systems.