Yamada Pump Distributors for Florida, Georgia, Alabama, South Carolina, North Carolina & Beyond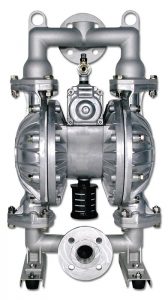 There are several Yamada pump distributors available, but there are none quite like Arroyo Process Equipment. We have been serving the needs of processing facilities, both domestically and internationally for generations, and our family-owned and operated business is synonymous with top-notch customer service and unparalleled levels of product support.
Your Preferred Yamada Diaphragm Pump Distributor
At Arroyo Process Equipment, you can find all of the Yamada pumps and accessories you need to keep your operations running smoothly. That's why more and more processing facilities prefer us as their Yamada diaphragm pump distributor. We have more products than most other Yamada pump distributors that service your region, and our pump experts have the knowledge and experience to make best-in-class recommendations to ensure your facilities operate at peak levels all year 'round.
With Arroyo Process Equipment as your preferred processing equipment supplier, you can get all of the Yamada equipment you need from a single source. Options include:
Standard Side Port AODD Pumps
Center Port AODD Pumps
Diaphragm Pump Accessories
PTFE Double Diaphragm Pumps
Specialty Diaphragm Pumps
Split Manifold Pumps
and More!
Our team of equipment engineers can help you choose the right Yamada equipment for your facility, and they can even create a turnkey pump package system that we can skid-mount and quickly ship to your location. Regardless of what components you need for your system, you are sure to find them at our three Florida locations, and we represent only the best names in the business, including Baldor, Weg, Hayward Gordon, Sharpe Mixers, Crown, Toyo Pumps, Weinman, Viking Pumps, and many others. With all of these manufacturers from which to choose, you are sure to find all of the processing equipment you need at Arroyo Process Equipment.
If you are looking for Yamada pump distributors that serve facilities in Florida, Georgia, Alabama, South Carolina, North Carolina, or beyond, look no further than Arroyo Process Equipment. We are the processing experts to trust with all of your processing equipment needs, and we look forward to serving you. Contact us today for more information or to request quotes.