Yamada Diaphragm Pump Distributor Serving Florida & Other Regions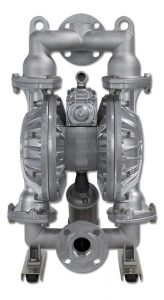 Are you a processing facility that is looking for reliable processing equipment suppliers to keep your processing operations running at peak levels all year 'round? Arroyo Process Equipment is an authorized Yamada diaphragm pump distributor, as well as an authorized distributor for some of the best names in the business, including Viking Pump, CAT Pumps, Liquiflo, Prosser, Sharpe Mixers, and many others. We have all of the products you need in each of our three Florida locations.
Yamada Diaphragm Pump Distributor – Arroyo Process Equipment
For generations, our family-owned and operating processing equipment company has been supplying processing facilities throughout the world with the equipment they need to keep their operations running smoothly, and we are the preferred Yamada diaphragm pump distributor in Florida. We have all of the Yamada pumps and accessories you need for your facilities. Options include:
Pumps: Yamada AODD pumps are available in a wide variety of types and sizes. They manufacture reliable and durable air valve pumps, standard side port pumps, center port pumps, split manifold pumps, and everything in between, and our experts can help you choose the pump that is best for your unique application
Diaphragm Pump Accessories: We can also supply you with any Yamada regulators, filters, liquid level controllers, dampeners, dry run detectors, or nearly any other Yamada pump accessory you might need. Simply call your dedicated Arroyo Process Equipment representative, and we can quickly ship accessories and replacement products to your door.
Specialty Products: Unlike other distributors, we also offer a variety of specialty pumps that are designed for complex applications and processes, including high-pressure AODD pumps, diaphragm drum pumps, powder diaphragm pumps, and more.
If you are looking for a reputable Yamada diaphragm pump distributor that serves processing facilities in Florida, Georgia, Alabama, South Carolina, North Carolina, and other national or international regions, contact the experts at Arroyo Process Equipment today for more information or to request quotes. We look forward to serving you!