Cat Pumps for Georgia, Haiti, Jamaica & Elsewhere throughout the Caribbean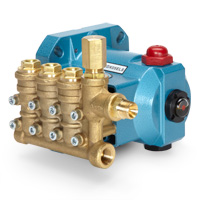 Arroyo Process Equipment is a Cat Pumps supplier that carries their full line of positive displacement pumps, centrifugal pumps, accessories and replacement parts in stock or available by special order. We're a family owned and operated fluid processing equipment company renowned in the industry for the superior quality products and unequaled services we have provided to customers for the past 50+ years. Cat Pumps equipment along with Hayward pumps, Viking pumps and equipment from other industrial pump manufacturers covers a wide array of industrial and municipal fluid processing applications.
Cat Pumps has earned their reputation as a manufacturer that designs and produces pumps optimized for exceptional performance and long operation life. The CAT industrial pumps and accessories that are available at Arroyo Process Equipment include the following and more:
Direct drive, electric motor triplex plunger pumps
Solid shaft brass and Stainless Steel piston pumps
8K Series multistage centrifugal pumps
Pulsation dampeners and pressure regulators
Inlet pressure stabilizers and pressure gauges
Thermal valves and relief/pop-off valves
Georgia Cat Pumps From Arroyo Process Equipment
Cat Pumps triplex plunger pumps are often the pumps of choice for industrial applications such as fish and seafood processing, poultry evisceration, lumber conditioning, homogenization and more. Piston pumps are ideal for powering heavy machinery and applications in the oil and gas industries. Multistage centrifugal pump models are typically used for applications such as water boosting, irrigation, water treatment and reverse osmosis.
The Hayward Line available from Arroyo Process Equipment includes Hayward pumps, strainers, filters, valves and more. Hayward pumps include solenoid metering pumps, aquatic pumps, vertical pumps and magnetic drive pumps. We have all of the genuine parts and accessories for Cat Pumps, Hayward, Viking Pump and other pump manufacturers in our Parts Department. Processors in Florida, Georgia, Haiti, Jamaica, Tobago, Trinidad and Caribbean often rely on our Arroyo Process Equipment pump specialists and engineers for help determining the equipment in our lines that best match the processing requirements at their processing facilities. Contact one of our associates today for technical assistance or to request quotes on any of our pump equipment.